The ruins of one of the largest castles in Moravia, dominates the village. The castle was probably founded sometime in the 1. half of the 13. of the century. The first mention
been many times to be chased, was not never conquered by the armies of invaders. His destruction was caused by fire at 5. October 1762.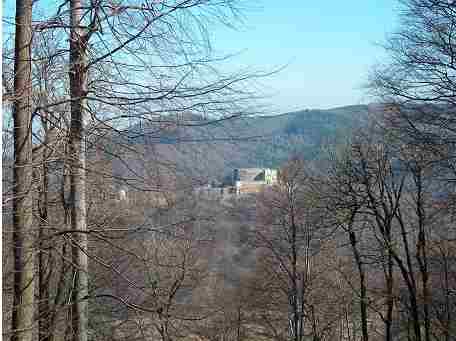 The path to the Castle leads a beautiful Hukvaldy Park, where you can see apart from the centuries-old oak trees, mature chestnut trees also herds of wild Mouflon, fallow deer, and if you're lucky also feral pigs.
As the founder of Hukvaldy are consider German counts of Hückeswagen. The Olomouc bishops obtained the castle for the first time in the mid-14. century. They were also the most common rulers of the Castle. Their ownership was confirmed in the year 1355 even Bull, which also ban the castle to sell or gage. The Czech King Jiří of Poděbrady received the castle of in 1465. He at once sold it back to the bishopric of Olomouc. The then Bishop of Boskovice Tasov help financially  his brothers Dobeš and Beneš Černohorští of  Boskovice.  They were they, who also took over the Castle after Bishop Taso died of the plague. Under the rule of the Lords of Boskovice Castle occurred to many major building alteration, and the same was true even after their death at the beginning of 16th century, when the Hukvaldy was again and this time finally returned, to the Olomouc bishops. Since then held the bishopric of Olomouc (and from the 18th century the Archbishopric) Hukvaldy almost continuously until 1948, when the castle was nationalized. 
In the Park of the Castle, in a place with magical backdrop of the Kazničov mountains and excellent acoustics, is used for decades in the context of festival "Janáčkovo hudební Lašsko" a concert stage in the Summer Amphitheatre. In its vicinity there is a monument, "Liška Bystrouška" which was placed here in 1959 on the memory of the first of the local implementation of the Janáček Opera, with the same name.
 
Opening hours:
 April, October (Saturday, Sunday and holidays): 9:00-16:00
May-August (daily except Monday): 9:00-18:00
September (daily except Monday): 9:00-17:00
* lunch break: 12.30-13.00
open castle outside open hours is possible by prior agreement.
Tel.: + 420 736 158 748 Castle ticket office during opening hours:
Tel.: + 420 558 699 323  
Length of the route from the place of accommodation

: 1,4 km